Call for Participants for an exciting study !!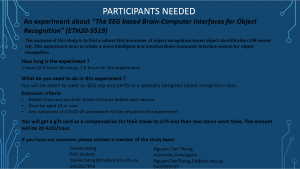 What for?
We are looking to recruit some participants for an experiment. As part of our research, we are finding a robust EEG biomarker of object recognition based object identification (OR-based OI) and investigate the robustness of the OR based OI under various appearances constraints. The experiment will take around 2 hours of your time. This experiment will be host at the CIBCI Laboratory located at UTS, Building 11, level 6. (CB11.06.400). This experiment is approved by UTS HERC ID ETH20-5519.
What will you be doing in this experiment?
This experiment will involve recording your bio-signals (EEG/Brain Activity, eye movement).
Who are we looking for?
Participants who are:
Within the age of 18-35 years old
Do not have existing visual, auditory, physical, or mental health conditions (The specific details are outlined in the google form below)
Compensation?
Your time will be compensated for. You will receive the equivalent of $40 AUD in the form of a gift card (There will be a few retail options available).
How to sign up?
You can sign up by filling out this google form:
https://forms.gle/3FtXg8XGo9qfapiM8
The eligibility criteria are outlined in the form. Do not hesitate to email us directly (daniel.leong@student.uts.edu.au), if you have any questions about the experiment or your eligibility to participate. Please do not click reply all to this email as it emails the whole mailing list and spam other people's inboxes.
Questions?
If you have any questions, you can ask it in the google form or email us directly at daniel.leong@student.uts.edu.au.
Won't be participating?
That is all good! I've attached a PDF advertisement that is a concise version of this email. If you know any friends/family/etc that may be interested, please pass on this email or that advertisement to them.
Thank you for your time, looking forward to your participation!